Let's talk Golden Globes Red Carpet, the stars came out in the good the bad and the down right ugly. I'd like to start with the Pretty Mamas: Kerry Washington, Olivia Wilde and Drew Barrymore; in my opinion it's best to embrace the bump as being a mom myself you're glowing your hair looks phenomenal and... the downside you may not always feel 100% but it's best to wear gowns with less cloth and frills to even out the bump. Anyways my fave of the night was Olivia in Gucci from the cut to the shade of green the relaxed waves in hair made her look fresh and comfortable in her skin. Kerry looked so cute in her Balenciaga the cut of the dress was so whimsical and sweet. Though quite cheerful and happy Monique Lhuillier's gown was a bit much for Drew's frame and overpowered her but she's with child and I'm not going to pound her for her flower filled number.

Onto the next category my faves of the night Lupita Nyong'o in a red cape dress by Ralph Lauren

Amy Adams in Valentino
Kaley Cuoco Sweeting in Rani Zakhem

Cate Blanchett always stuns in her fashion current ensembles and she didn't disappoint in her black lace Armani Privé gown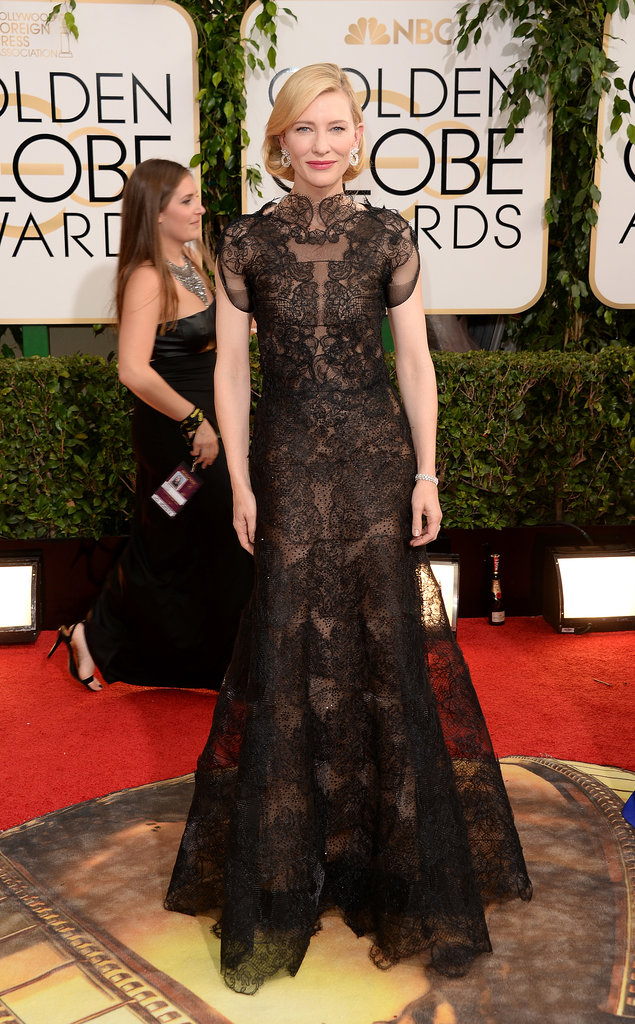 Margot Robbie in sleek whit Gucci dress
Helen Mirren
LBD:
Amy Poehler in Stella McCartney
Emma Roberts in one of my fave designers Lanvin
Hayden Panetierre
Julianna Margulies in Andrew GN

Sofia Vergara in Zac Posen
Fave Couples:
Matthew Mcconaughey and Camila Alves
Aaron Paul and Lauren Parsekian

Channing Tatum and Jenna Dewan
And the feigned category of the gowns that left question marks on everyone's faces Zoey Saldana I love you but this dress felt like an homage to the beloved Christmas tree it's not your fault it's

Prabal Gurung for telling you it was meant for you, you looked gorgeous but the dress not so much.
Jennifer Lawrence
in Christian Dior was nice in theory but she had to keep pulling at her dress for it to sit right; and a dress that needs to be tugged and pulled at raises red flags for me. It cut her body off in three places , it just wasn't the right dress for her.
Berenice
Bejo in a red barnacle inspired dress did nothing for her curves
I'm on the fence about this Dolce and Gabanna ensemble that Julia Roberts decided to wear. She's a beautiful woman that has stunned us so many time in the past with her choices like the black and white vintage Valentino dress but I'm not sure if I like this one.